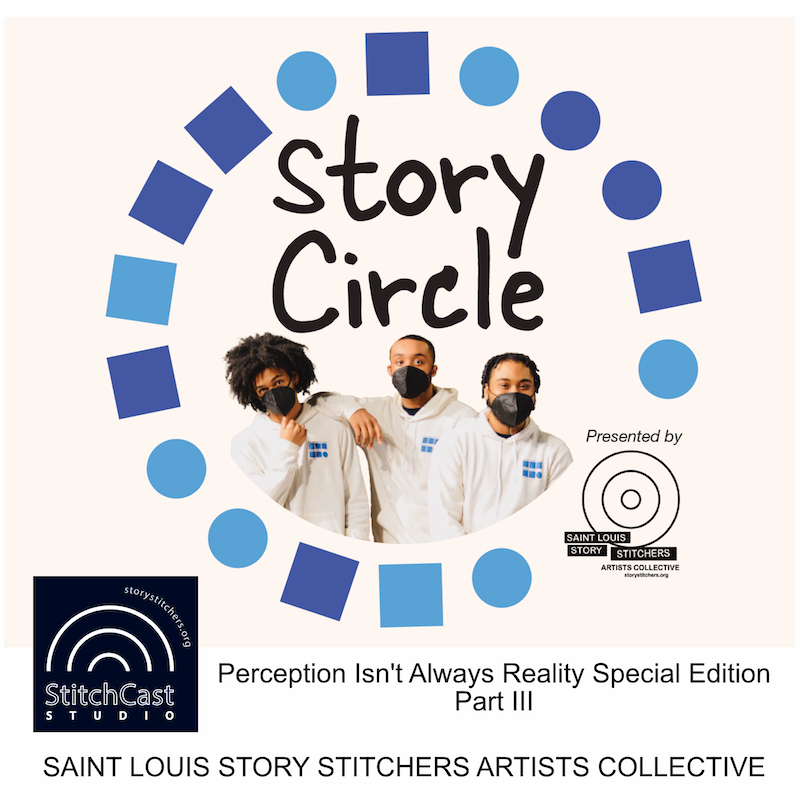 StitchCast Studio SPECIAL EDITION: Perception Isn't Always Reality: Part III
Youth leaders hold a public Story Circle as part of the Perception Isn't Always Reality.
With support from the CDC Foundation, the Saint Louis Story Stitchers project Perception Isn't Always Reality will engage Black teen and young adult artists to re-evaluate messages they may have received about COVID and vaccinations and evaluate the sources of the information. Through their own brand of urban storytelling that involves collaborative work in hip-hop music, krump dance, videography, photography, and podcasting, the artists will produce a body of work for the public to view on urban canvases, such as the sides of city buses, and listen to on the airwaves.
How has Covid-19 and the vaccine affected you and your family and friends?
Dr. Kanika Cunningham, Family Medicine, Family Care Health Center, answers questions from youth leaders and the public for this live recording at the Cabanne Branch Library, St. Louis Public Library, April 4, 2022.
Pick the City UP Art Interlude
The Why and The Way
KP Dennis for Saint Louis Story Stitchers' The WHY of MY City, 2020
Saint Louis Story Stitchers is supported in part by an award from the National Endowment for the Arts. On the web at arts dot gov.
Story Stitchers is supported by The Lewis Prize for Music's 2021 Accelerator Award. The mission of The Lewis Prize is to partner with leaders who create positive change by investing in young people through music. 
Additional support for StitchCast Studio and Story Stitchers youth programs was provided by the Spirit of St. Louis Women's Fund, City of St. Louis Youth at Risk Crime Prevention grant of 2021, Lush Corporation's The Charity Pot, and March For Our Lives Aid & Alliance.